History
Citizen's Fire Company No.1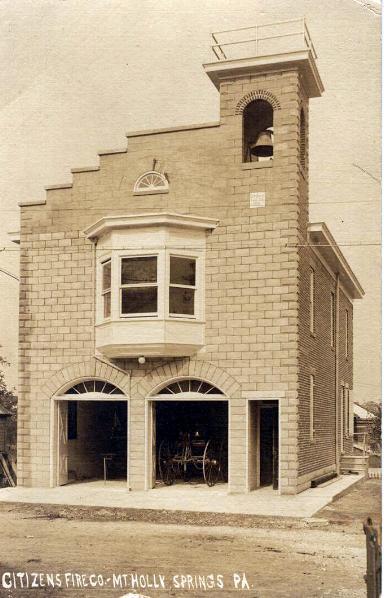 Pursuant to a previous call, the first meeting of this company took place in the school house on July 29, 1895. The persons in attendance were: Mr. W. Harman, Mr. W. I. Hipple, Mr. H. A. Buttorf, Mr. J. W. Witmer, Mr. P. W. Linthurst, Mr. Upton Mondorf, and Mr. Robert P. Warner. The first trustees were J. A. Steese, Thomas Wolf, and D. W. Wallet.
One of the first expenditures made by the company was the sum of 93 cents for nine (9) chairs. Seven tables were borrowed from the Holly Inn for the first three day festival held by the company in October 1895. The first stove was donated by Mepco, Nesbit, and Smyser of Dillsburg, Pa.
On August 6, 1895, the company's first equipment was purchased by the town council - namely a hose cart for $50 - $60 and 100 feet of 2-1/2 inch rubber lined hose. On September 23,1895, an H & L truck (hand drawn) #600 was ordered from S. F. Hayward Co. and delivery was received about November 20, 1895. Four (4) "gum coats and hoods" were purchased February 3, 1896, for the sum of $15.96. A frame one story building (not lined or painted) was erected on the John Trine property to house the equipment. The building was 14 feet by 36 feet.
On December 2, 1895, a 3 year insurance policy was paid for and dated November 25, 1895. Items insured were: the building for $125, the H & L truck for $310, the hose cart for $100, 2 wheeler (?) for $15 and 1000 feet of hose for $450.
The company's first three fire calls were: November 26, 1895 at the Methodist Church ($100 loss), May 24, 1896 at the David Weigle Stable ($900 loss), and May 25, 1896 at the Primary School Building ($500 loss).
The Certificate of Incorporation (Charter) is dated March 30, 1897.
On May 9, 1921, a Model T Ford Fire Truck was purchased for $3215. In 1931 an International Pumper was purchased. The company now owns a 1939 Mack Truck, a 1953 Seagrave purchased for $15,726 on July 8, 1953. A 1959 Ford Tank truck was purchased on August 12, 1964. Also a 1965 Cadillac ambulance was purchased.
In September 1911 a building on West Pine Street was acquired. In July 1962 the building on Chestnut Street was bought for $20,000. This mortgage was paid off in 1969 through the efforts of the firemen working on various money raising projects throughout the year.
In April 1969 the company decided it needed a new fire engine. The firemen visited fire companies as far away as Maryland to see as many different types of new trucks as possible. After long discussions and comparisons, it was decided to purchase another Seagrave. An order was sent to the manufacturer in September of 1969 for a truck costing $45,000.
In 1970, a 1938 Seagrave Pumper was purchased in conjunction with a 1971 Seagrave. In May of 1971, we took delivery of a 1971 Seagrave Pumper with a 1000 gallon-per-minute pump. In 1971, we purchased a 1969 Cadillac Ambulance. In 1975, the fire company put on a new addition of a 5 bay station. In 1978, the company searched for a brand new fire engine to replace the aging 1953 Seagrave engine. After looking at many different types of new engines, a decision was made to purchase another Seagrave Commercial Pumper from a Seagrave dealer. In conjunction with the new engine, the fire company and Friendship Fire Company of Carlisle went together and bought large diameter hose to put on the new engine. In 1980, we decided to look for a ladder truck. After looking at various apparatus around the area, a 1957 Seagrave 85' Aerial Truck was found in Yaden, Pa. The fire chief then approached the VFW Post #7343 Commander to see if they would be interested in purchasing the ladder truck for the company. The VFW graciously agreed to purchase the aerial truck for the company.
In 1980, the fire department places in service a 1976 Ford Special Unit for medical assist and wildland firefighting. In 1981, two Wheeled Coach Type III Ambulances were purchased. In 1986, the 1962 Studebaker was replaced with a 1978 Ford SPI tanker. In 1984, the 1957 aerial truck was replaced with a 1974 Seagrave 100' aerial truck formerly known as FDNY Ladder 56. In 1987, the company purchased a 1987 Yankee Coach Type III Ambulance. Also, a 1979 Dodge Pierce mini pumper was purchased to replace the 1976 Ford special unit. In 1988, a decision was made to purchase twin 1989 Seagrave pumpers with 1750 gallon-per-minute pumps to replace the 1971 Seagrave, the 1978 Seagrave, and the 1978 Ford SPI tanker. In conjunction with this decision the company purchased a 1965 Seagrave Pumper to serve to the community until the new twin engines arrived. In 1991, a 1990 Ford McCoy Miller ambulance was purchased. In 1993, the company purchased a 1993 Ford McCoy Miller Type III ambulance. Also in 1993 we acquired a 1977 Dodge brush truck from the Forestry Department. In 1995, the fire company officially discontinued our ambulance service. It was merged with then, the South Middleton Township Ambulance and became Yellow Breeches EMS. In 2000, the merged ambulance company purchased a garage on Mill Street and moved all of the ambulances into that one station. Today, they still provide that service with paid crews.
In 1995, the department purchased a 1991 Ford pickup truck which was then put into service at Utility 36. Also, we purchased property at 103-105 North Baltimore Avenue for possible expansion. A 1995 Ford/Darley Viper mini pumper was purchased. In 1996, the company replaced the 1974 Seagrave aerial due to a failing ladder which was unsafe and non-repairable. This was replaced with a 1996 E-One 100' aerial ladder truck. In 2000, the 1977 Dodge brush truck was returned to the Forestry Department and replaced with a 2000 Ford F-350 brush truck. In 2003, a 2003 Ford F-250 crew cab pickup truck was purchased and replaced the 1991 Ford pickup truck. That same year, we acquired a 1975 AMC 5-ton 6 x 6 truck from the Forestry Department. It is now known as Brush 236 and its primary use is for mountain/wildfires. When it arrived, the paint scheme was camouflage. Dedicated members of the company sand blasted the truck and it was then repainted to match the rest of the company apparatus.
The property at 103-105 North Baltimore Avenue was sold in 2003. The company then purchased property on Mill Street. This property was purchased with future expansion for company events in mind. In 2006, a new E-One rescue pumper was purchased to replace on of the twin 1989 Seagrave engines. The aging Amkus rescue tool system was also replaced with a Holmatro system with newer technology. A Polaris Ranger has also been added to the roster and is used for mountain rescues, mountain fires, and various other events. A full-sized Chevrolet van donated by Hollinger Funeral and Crematorium was placed into service as a traffic unit. This unit carries cones, signs, and various other traffic control devices.
2010 has been a year of excitement as well. The old kitchen and dining room area has been remodeled. The renovation was worth it as the transformation looks great. Another big change was the official merger between Citizen's Fire Company No.1 and South Middleton Township Fire Company effective May 1, 2010. The combining of the two companies is to continue to deliver our service while stream lining the operations.

Boiling Springs / South Middleton Township Fire Department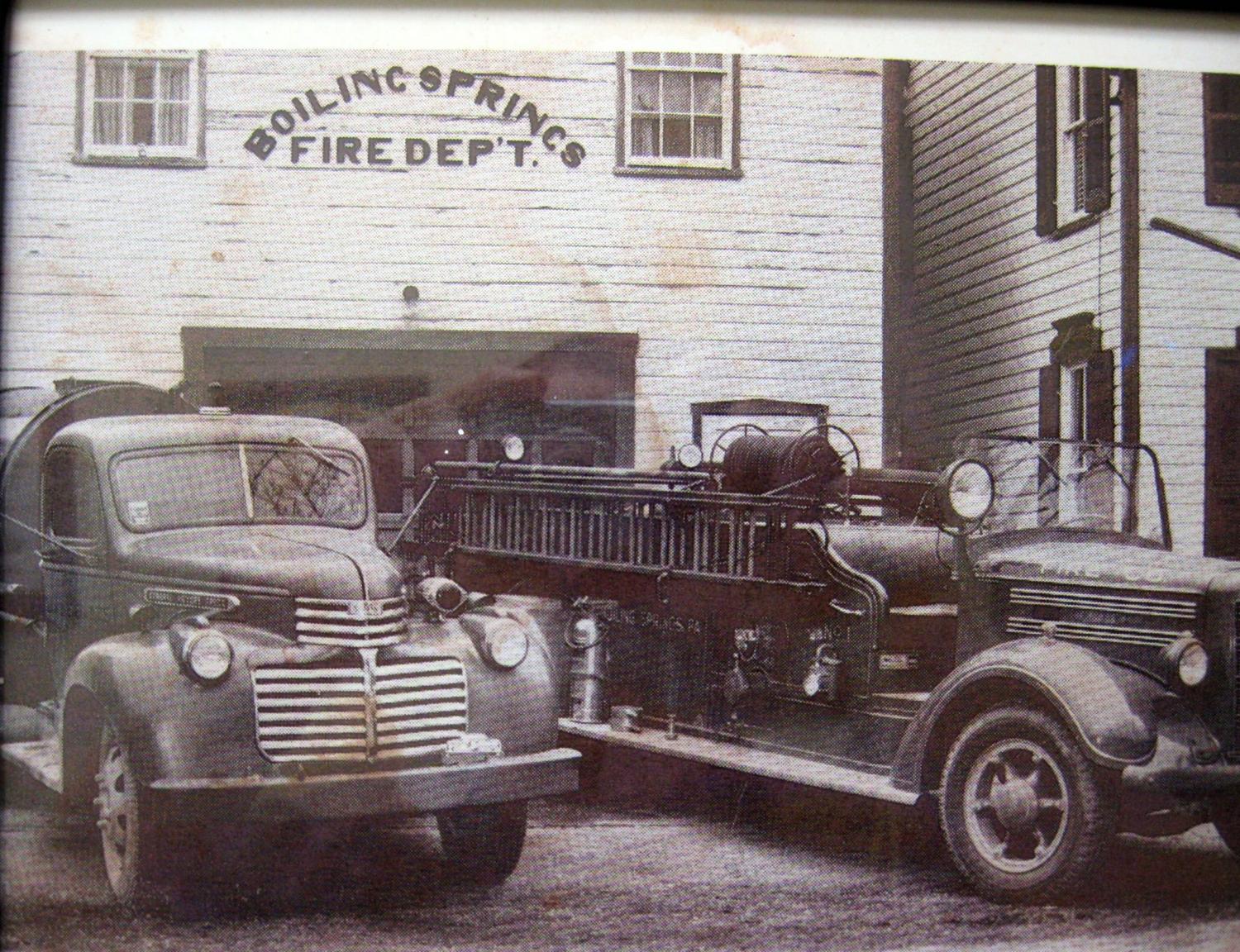 According to the records, the first fire fighting in Boiling Springs was in the early 1890's and was done by two citizens who formed a bucket brigade. The late John Belthoover was the first known chief.
The first fire engine which was put into service in Boiling Springs was a hand pulled, hand operated chemical pumper early in 1910. The chemical pumper was sold in 1938 and for five years there was no organized fire protection in Boiling Springs, relying on Mt. Holly Springs and Carlisle for protection.
The first firehouse in Boiling Springs was on Walnut Street, and the first fire hydrants were old wooden pumps with metal handles which in later years were replaced by modern fire hydrants.
The first meeting to organize a fire department was held early in the spring of 1943. John Lilley was the first appointed fire chief. The following persons on October 14, 1943 signed a charter for the fire company to be known as Boiling Springs Fire Company: Victor J. Tamanosky, Paul E. Liggett, Robert McBain, Harry Shaeffer, John C. Lilley, Clarence D. Thomas, Ira H. Stone, Kenneth R. Reffner, E.F. Hester, John H. Paden, K.E. Gephart, and John Moyer. Ira Stone was the first elected fire chief, and the following were the first elected officers: Victor Tamanosky-President, Paul Liggett-Vice-president, Harry Shaeffer-Secretary, and John Paden-Treasurer. The name of the Boiling Springs Fire Company was changed to the South Middleton Township Fire Company in the spring of 1969 for legal purposes.
The first motorized equipment was an old truck owned by John Lilley to haul buckets and equipment. Money was raised for a new pumper by gathering scraps, hauled by Lilley and Lloyd Rhoades.
In 1945 the company purchased a 1945 Mack fire truck equipped with a 500 gallon-per-minute pump. This truck was put into service in June of 1945 at a cost of $5250.00. That same year the company moved to a one bay, two floor firehouse on Third Street. As the area serviced by the fire company became more populated, the need for a tank truck was stressed, not only for the fire fighting, but to supply cisterns and wells with drinking water in dry seasons of the year. In the spring of 1953, a used GMC chassis was purchased and members installed a 1000 gallon tank and portable pump. In 1958 the old firehouse was demolished and a new two bay structure built on the site. In 1961 a 1946 Diamond-T tank truck and a 1956 Chevrolet emergency-rescue truck were added to bolster the company's rural service. The two old tankers were replaced in 1963 when a 2400 gallon 1963 International tanker was placed into service. The Boiling Springs Fire Company celebrated its 25th Anniversary in 1969 and took delivery of a 1969, 1000 gallon-per-minute Mack pumper at a cost of $30,000. In 1973 the company purchased a 1973 International tanker featuring a 2300 gallon stainless steel tank, the first stainless steel tanker in the area. In 1974 a Chevrolet four-wheel drive utility body truck was purchased and the company equipped it with a 250 gallon tank and a portable pump, which served as the company's brush truck. In 1980 a Mack diesel 2100 gallon stainless steel tanker was purchased, featuring a 2100 gallon fold-a-tank.
At this point, the company owned the 1945 and 1969 Mack pumpers, 1973 and 1980 stainless steel tankers, and the 1974 Chevrolet brush truck.
It was the summer of 1956 when the members of the fire company purchased a used ambulance from Biglerville to provide ambulance service to the community. Then, in September of 1961 a used Chevrolet ambulance was purchased from Williamstown. In the summer of 1966 a new International ambulance was put into service, and in 1976 a Dodge modular ambulance was purchased. In 1976 the company moved to its present location next to the old Boiling Springs Plaza on the Forge Road. The new firehouse is a four bay, 10,000 square foot structure and houses all seven pieces of company equipment.
In 1985 and 1990, Pierce engines were purchased to replace the aging apparatus. An Amkus rescue tool system was also added to upgrade the services in the company. In 1995 the brush truck was replaced with a newer Chevrolet with a utility body, pump, and water added to it.
In 1995, the fire company officially discontinued our ambulance service. It was merged with then, the Citizen's Fire Company No.1 Ambulance and became Yellow Breeches EMS. In 2000, the merged ambulance company purchased a garage on Mill Street and moved all of the ambulances into that one station. Today, they still provide that service with paid crews.
2002 saw the sale of the 1985 Pierce engine and the purchase of a 2002 KME 4 x 4 squad. It has an Amkus rescue tool system on board. This unit serves as a rescue piece as well as a back up unit to the engine and brush truck. It has a 750 gallon-per-minute pump and foam on board. The 1985 Pierce was sold to Cumberland Valley Hose Fire company in Shippensburg. In 2003, an addition was built onto the current fire station. This added another bay area, increased offices, a bunk room, and newer lounge/kitchen area for the members. A Chevrolet mini-van has also been placed into service as a utility vehicle until the 2004 Ford pickup was purchased to take its place. The mini-van was then reassigned to become the traffic unit for the fire police to use. The 1990 Pierce engine was sold and replaced with a 2006 E-One engine carrying 970 gallons of water and a foam system. It also carries various firefighting equipment. Another service provided by the company is a smoke trailer used for fire prevention and public education of fire safety.

As the company moves on jointly, it continues to grow. As of March 2011, both stations now have a paid driver on duty. The company also decided that some of the extra apparatus would be disposed of. The 6 x 6 brush truck was returned to the Forestry Department for redeployment. Traffic 236 was placed out of service and disposed of. Brush 236 (1995 Chevy) has been sold to the West Pennsboro Township Fire Company. Traffic 236 (Chevy mini-van) has been permanently placed out of service.
2012 - 2014 continues to see the revamping of apparatus. Truck 36 had some refurbishment work done to allow it to continue serving the community. It was repainted, had new mirrors added, upgrades to the lighting, and some general functional areas were enhanced to improve it's operation. Moving along with the apparatus replace plan, the 1996 Ford/Darley mini-pumper was sold to New Bloomfield FD in Perry County. A 2012 Ford/Brat brush truck was purchased from Glick Fire Apparatus to replace the mini-pumper and 6 x 6 brush truck that was returned to the Forestry Department. It's a combination of brush and small attack unit used for those areas where the larger fire apparatus don't fit. In the spring-summer of 2013, a new Pierce engine was ordered from Glick Fire Apparatus to replace the 1989 Seagrave engine. With the 2006 E-One engine (Engine 136) being the rescue engine, the primary role of this new engine will be for fire attack. As December 17, 2013, the committee went to Pierce for the final inspection. The new engine should be in service during the 1st quarter of 2014 and the 1989 Seagrave engine will be sold. The 2002 International/KME squad was sold to the New Kingstown FD in September 2013. The rescue tools from Engine 236 were moved to Engine 336 with the squad being sold. Also in 2013, another Ford/Brat combination unit was ordered from Glick Fire Apparatus and should will be built in 2014. This unit will be similar to the previous one except it will have a 4-door cab and more medical equipment on it. Once it arrives, the 2000 Ford/ITE brush truck will be sold.
2014 - Saw the arrival of the new units that were purchased. The new Pierce engine was placed in service and it's primary role is fire attack and is designated Engine 236. Upon the arrival the new 2014 Ford/Brat brush truck, it too was placed into service. It has brush/mountain fire capabilities but also has equipment for medical assist purposes. The 1989 Seagrave engine and 2000 Ford brush truck were sold. The department continued it's usual operations of emergency services, training, and fund raising. It was decided however, to discontinue the bingo operations at Station 2 as it was no longer providing the funding it used to. Several of our firefighters continued on with their training and became Firefighter 1 certified and another member got her EMT.